DE WIJK | STEGEN.NET
Op het Pinksterconcours in De Wijk won Marcelle Hokse het ZZ-springen. De amazone uit Staphorst was met VDR's Dancing in the Dark veruit de snelste.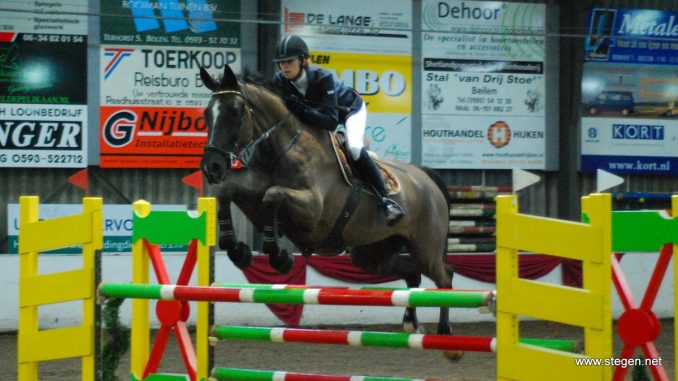 Hokse mag dan geblesseerd zijn aan haar hand, het belet haar niet om gewoon goed te rijden. Op de mooie grasmat in De Wijk leek ze niet eens zo snel te gaan, maar ze reed steeds mooi voorwaarts en in een goed basistempo. Ook door de grote galop van Dancing in the Dark kwam de winnende tijd van 53.75 seconden op de klok.
In dit progressief ZZ-parcours eindigde Bert-Jan Zuidema uit Linde op de tweede plaats. Hij zette met Devlin een tijd neer van 56.07. De derde plaats ging naar John Popely met Lancer.
Julian de Boer schreef de Z-klasse op zijn naam. Met Frodo was hij maar een fractie sneller dan Jack Broek met DHI Zulu. Julian de Boer werd vervolgens ook nog derde met Fernando.
Dressuur
Bij de dressuur klasse ZZ-licht behaalde Mieke Bekelaar de hoogste score. Ze behaalde met Edison 65,29%. Diana Koopmans werd in deze proef tweede met Chicago. In de tweede proef eiste Astrid Reinders de overwinning op met Ducos (64,57%) en eindigde Anne Lehmann als tweede met Camacho.
De proeven in de Z2 werden gewonnen door Lin Chi-Chun met Alaska DVB en Marissa Spoor met Brinkhof's Empire S.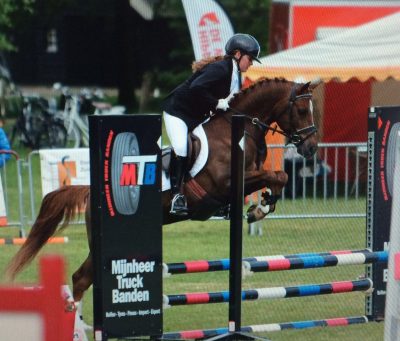 Opvallende prestaties Huisman
Bij de pony's leverde Anna-Sophie Huisman opvallende prestaties. De 13-jarige amazone reed met haar pony Spoekedammetje's Nikos in de hoogste dressuurklasse naar twee keer de eerste plek.
Met ruim 70.77% en 67,80% bleef ze haar concurrenten ver voor in de klasse Z2.
Met haar pony Vinkenhove U2 sprong ze een rondje BB en ook deze won ze met 70 stijlpunten.