Exloo |

STEGEN.NET


Marlies van Baalen domineerde zondag in de slotrubrieken van de tweede editie van Dutch Topsport Dressage. De ervaren amazone won de Grand Prix met Ben Johnson en de Intermédiare I met Go Legend DVB.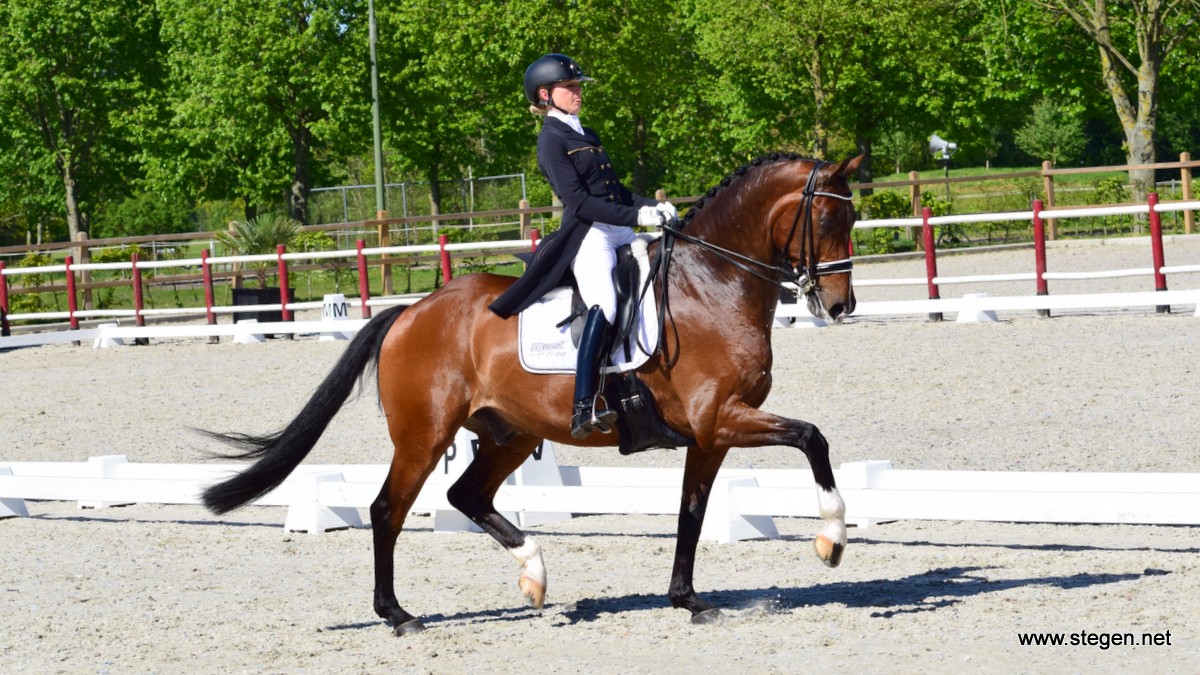 Vier dagen lang vielen er onder stralende zon te genieten van dressuursport op hoog niveau, onder ideale omstandigheden. De publieke belangstelling en de deelname waren iets minder dan vorig jaar, maar daar laat de organisatie zich niet door ontmoedigen. ,,We hebben echt alleen maar positieve reacties gehad en daar doen we het voor. Vergeet niet dat de concurrentie groot is, maar wij bouwen het evenement in alle rust verder uit", aldus bestuurslid Ciska Paping van Hippisch Centrum Exloo.
Volgens 'man achter de schermen' Lieuwe Koopmans is het zelfs de bedoeling om Dutch Topsport Dressage volgend jaar mei om te vormen tot een internationale wedstrijd. ,,We kijken of het in één evenement kan, of dat het internationale deel op zich zelf komt te staan, maar het gaat hoe dan ook door!"
Lust voor het oog
Marlies van Baalen was de ster op zondag. Haar winnende Grand Prix proef met Ben Johnson (v. Johnson) was een lust voor het oog. Een foutje tijdens de wissels drukte de score een beetje, maar het totaalbeeld was er eentje van prachtige harmonie tussen amazone en paard. Denise Nekeman wist ook een fraaie proef neer te zetten en werd met Boston Sth tweede.
Van Baalen was ook de beste in de Inter I, waarin ze met Go Legend DVB ruim drie procent voorsprong wist op te bouwen. Romy van der Schaft pakte de tweede plaats met Be Painted. Ellen Wynia en haar mooie Chakakahn werden fraai derde. Wijnia werd tweede in de Prix St. Georges, achter Annemieke Vincourt en de imponerend dravende Fimosa. Nicky Snijder won het ZZ-zwaar met Game Boy Sth. Bo Oudhof zegevierde met Colt Sollenburg bij de Young Riders en Milou Drees was met Franecesco winnaar bij de Junioren.