EXLOO | STEGEN.NET
Ellen Wynia heeft in Exloo de selectie voor het Drents indoorkampioenschap dressuur ZZ-licht gewonnen. Met haar bekende paard Chakakahn bleef de amazone uit Steenbergen de concurrentie ruim voor.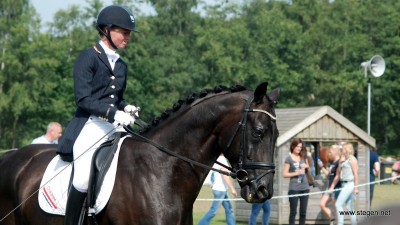 Ellen Wynia, net terug van vakantie, reed Chakakahn naar de winnende score van 66,86%. Daarmee hield ze Nienke Limburg met haar Bojangles op de tweede plaats. Deze combinatie werd beloond met 65,43%. Marit Slagter en Awaldie werden derde met 62,57%.
Eenzame hoogte
In de Z2 won Anne Lehmann onbedreigd. Met Don Juan behaalde ze een prima score van 66,18% en daarmee stond de amazone van de Milleniumruiters op eenzaame hoogte. Rachelle Buining stuurde de ervaren Rhythem And Blues naar de tweede plaats met 62,79%. Daarna volgde Aniek Schraa op de derde plaats met Apollo.
Veronique Roerink schreef de Z1 op haar naam. Met Flanel troefde ze Anne Lehmann op Amigo maar net af. Marrit Reusien (Hidde fan de Brinkhof) en Marissa Spoor (Brinkhof's Empire S) volgden.
Geselecteerd
Op 5 en 6 februari zijn in het Hippisch Centrum Emmen in Erica de finales van het Drents kampioenschap dressuur. Daarvoor zijn de na de selecties in Zuidwolde, Assen, Beilen en Exloo de volgende combinaties geselecteerd:
ZZ-licht: Ellen Wynia met Chakakahn, Nienke Limburg met Bojangles, Marit Slagter met Awaldie, Judith Pietersen met Kop Jansen Timberland, Bas de Recht met Equiscio's Vivendi, Diana Koopmans met Chicago, Marjan Hooge met Fulltime en Dinja Schnelting met Apache.
Z2: Veronique Roerink met Elvive, Anne Lehmann met Don Juan, Marjan Hooge met San Dinando, Nick Kemps met Chapeau, Aniek Schraa met Apollo, Judith Pietersen met Kop Jansen Chabring, Ina Beuving met Doris Day Sollenburg en Rachelle Buining met Rhythem And Blues.
Z1: Frans van den Heuvel met Damoiselle, Veronique Roerink met Flanell, Tatjana Mulder met Desperado, Floor Vos met Fine Tuned DFV, Anne Lehmann met Amigo, Marissa Spoor met Empire S, Ina Beuving met Enzo van de Lochthoeve, Cecile Smit met Evita Reina, Marrit Reusien met Hidde fan de Brinkhof, Paulien Alberts met Enrico en Orsolya Wunnink met Damiano di Oro.