Londen | STEGEN.NET
De carrière van 'wonderpaard' Valegro zit er op. De KWPN'er nam woensdagavond bij de Olympia Horse Show afscheid van het publiek.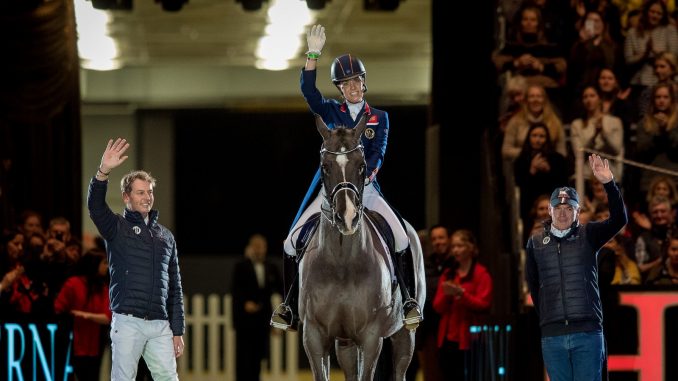 Charlotte Dujardin bracht de bijna 15-jarige Valegro voor het laatst binnen de ring in Londen. Daar namen zo'n tienduizend fans afscheid van het fokproduct van Joop en Maartje Hanse uit het Zeeuwse Burgh-Haamstede.
The One and Only bows out tonight #theprofessor pic.twitter.com/UnI6bmkQW4

— Carl Hester MBE (@HesterDressage) December 14, 2016
Dujardin en Valegro vierden vier jaar geleden grote successen in Londen. Tijdens de Olympische Spelen in eigen land won Dujardin zowel individueel als met de Britse ploeg goud. De 31-jarige amazone herhaalde het individuele succes afgelopen zomer in Rio de Janeiro. Met het team pakte ze zilver.
,,Valegro presteert nog steeds top, hij is de beste, maar toch stuur ik hem met pensioen", zei Dujardin. ,,Hij is me namelijk niets verschuldigd. De druk gaat er nu af, hij kan gaan genieten. Dat verdient Valegro ook." Dujardin hoopt over vier jaar in Tokio met een nieuw paard op nieuwe successen.